今年もTEXASで開催されます!
♪
Stevie Ray Vaughan Remembrance Ride & Concert
♪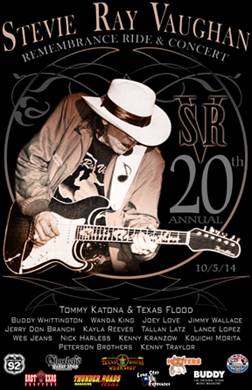 嬉しい事に僕の出演も決定しました。
今回で5回目の出演となります。
ありがとう。
個人的にこれで最後のTEXASにしようと思っています。
長かった旅も終わります。(楽しかったなぁ〜)
このブログのタイトル『Stevie Ray VaughanとTEXASをこよなく愛するギターリスト 'Kouichi'の夢日記』通り、大好きなことでエエ夢を見させていただきました〜。
もうお腹いっぱい。満足です〜。感謝!
今後の人生は、僕の大切な家族(妻、3人娘)を守る事を一番の楽しみとして生きていく所存です。
今までお世話になった方々、応援していただいた方々には、心より感謝しております。
ありがとうございました!
最後にTEXASで、僕が一番大好きなステージで演奏出来る事を大変嬉しく思っています。
人生はまだまだ続きます。
先の事は誰にもわかりません。
だから。
また、きっと、いつか...
Arigato~TEXAS!
I'm grateful and proud that I can share our love for Stevie with everyone in Texas!
See you at the SRV Remembrance Ride & Concert!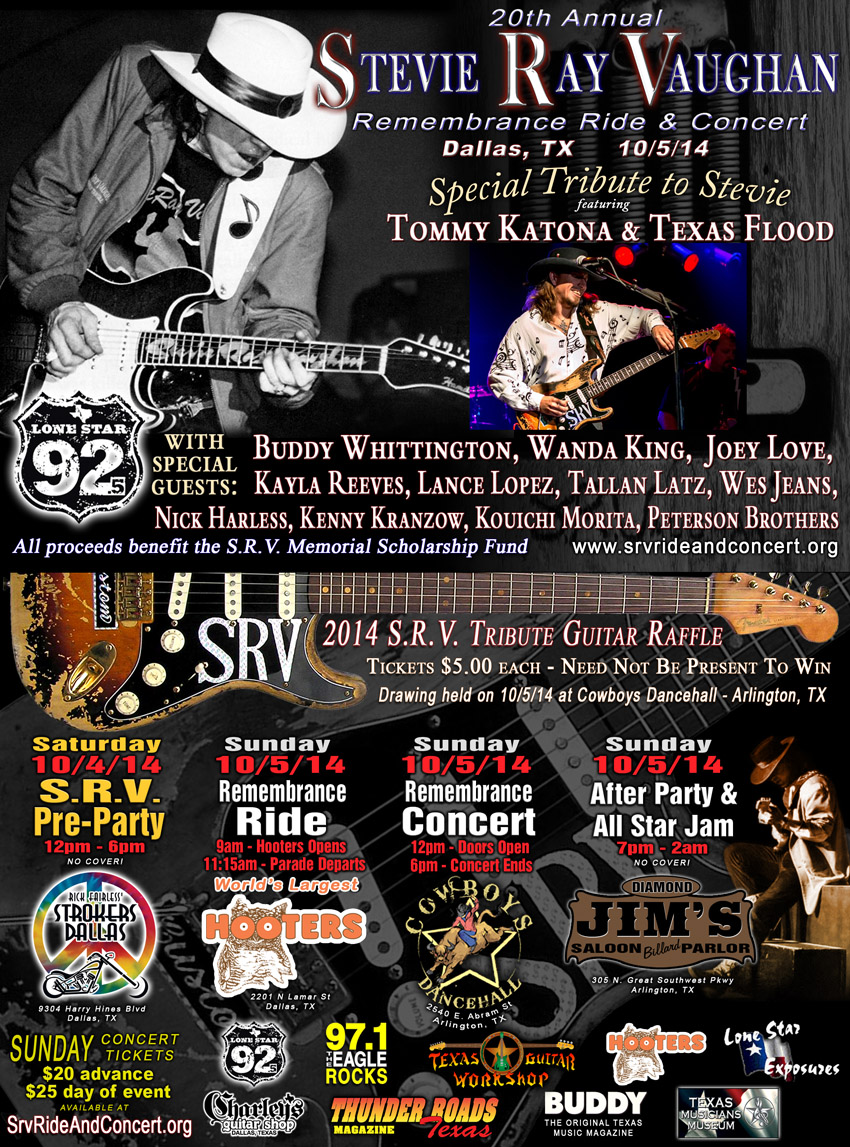 *プレスリリースは以下になります。
20th Annual
Stevie Ray Vaughan
Remembrance Ride & Concert
Sunday October 5, 2014
*
www.srvrideandconcert.org
We're less than 3 weeks away from the 20th Annual S.R.V. Remembrance Ride & Concert, honoring Stevie's 60th Birthday!
Visit the event website for ALL the details…
www.srvrideandconcert.org
Saturday – October 4 – The weekend gets started off with the PRE-PARTY at Rick Fairless' Strokers Dallas. 12pm – 6pm
Starring Kenny Kay and Storm Warning, Jackie Don Loe, Christian Brooks, Kouichi Morita, Tallan Latz, more bands TBA. No Cover!
Sunday – October 5 – The parade starts at the World's Largest HOOTERS in Dallas' West End. Hooters opens at 9am serving breakfast. Parade departs at 11:15am. Dallas Police will completely shut down I-30 and Hwy 360 to bring the parade to Cowboys Dancehall.
*今年はライドも参加するで〜!(3回目)数百台のハーレーパレードは圧巻の一言。マジで鳥肌立ちっぱなしです!今回は特別に先頭集団で走らせてもらいます。Ride & Concert で 全ての想いをStevieに捧げます
。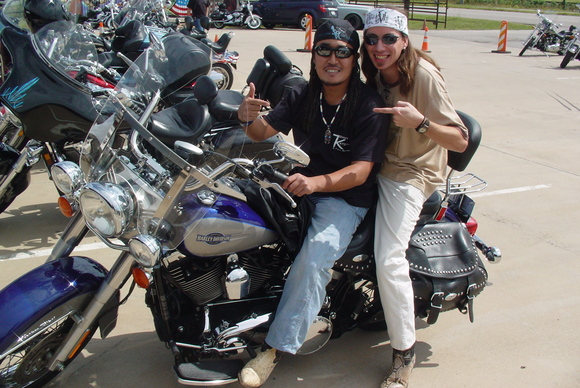 Concert starts at 12:00, ends at 6:00pm, featuring a "Special Tribute to Stevie" starring: Tommy Katona & Texas Flood, Buddy Whittington, Wanda King, Jimmy Wallace, Joey Love, Kayla Reeves, Tallan Latz, Lance Lopez, Wes Jeans, Kenny Kranzow, Nick Harless, Kouichi Morita, and from Austin TX the Peterson Brothers!
After Party / All Star Jam – Hosted by Kenny Traylor and SEVERAL special guests. 7pm – 2am at Diamond Jim's Saloon, about 1 mile from Cowboys Dancehall. No Cover!
Advance tickets are on sale now, $20 advance / $25 day of event Purchase online at
www.srvrideandconcert.org
Or you can purchase tickets at these sponsor locations:
Dallas Harley-Davidson 1334 W. Centerville Rd Garland, TX 75041 (972) 270-3962
Texas Guitar Workshop 1002 N. Central Expressway Ste 571 Richardson, TX 75080 (972) 437-7800
Charley's Guitar Shop 2720 Royal Ln. Dallas, TX 75229 (972) 249-4187
Reserved tables are also on sale, $100 for seating of 4. (Table reservation purchase does not include event tickets)
1 week before the event you will receive an email with a seating chart so you can easily find your table when you arrive at Cowboys Dancehall.
This will be a real treat… The Texas Bluesmobile will be featured at Hooters AND at Cowboys Dancehall for everyone to take their photo in front of the car! Check out www.texasbluesmobile.com for details.
"August 2013, the Texas Bluesmobile has been granted and endorsed by the John Belushi Estate, Judy Belushi-Pisano and Live Nation as the ONLY sanctioned and approved car to use the title "Bluesmobile" and use on Live Nation owned properties in Texas. This was a tremendous honor bestowed to me and the legacy of the car." – Paul Andrews,
www.texasbluesmobile.com
2014 Host Hotel is now accepting reservations for event attendees!
Use group code "G-SR20" for discount rates. $103 plus tax for singles & doubles.
(Saturday 10/4 is already sold out to the general public, use the group code to get one of our blocked rooms)
1542 North Highway 360 Grand Prairie, TX 972-988-6800
All proceeds benefit the S.R.V. Memorial Scholarship Fund, established by Martha Vaughan
.
S.R.V. Remembrance Ride, Inc. is a 501 (c) 3 Non-Profit Organization.
100% of all proceeds benefit the S.R.V. Memorial Scholarship Fund.
All event staff are volunteers.
www.srvrideandconcert.org
www.facebook.com/srvrideandconcert
email: info@srvrideandconcert.org
それではTEXASでお会いしましょう!
See you there!
Soul to Soul
Kouichi Morita